Australian Discovery Advertising
---
Return to Ron's Rover Home Page
Click on a thumbnail picture for larger image. Image file sizes are shown in kB.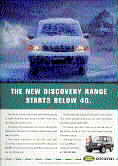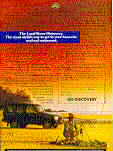 Left: "Starts Below 40" This ad was part of a campaign to introduce a cheaper Discovery, probably in part to counter the flood of 4WDs from Japan and the USA that were under $40,000. About the only things missing were the alloy wheels, ABS, and the rear jump seats. (33Kb)
Right: "Your Favourite Seafood Restaurant" Another advert featuring Les Hiddens, an ex-Australian Army Major who did a TV series called The Bush Tucker Man whilst still in the Army. In the series, made with the full cooperation of the army and using army helicopters, Les naturally drove an Army Defender. It was part of a research project Les was doing for the Army on finding out which bush food (tucker) was edible so that this information could be used by Army troops. (41Kb)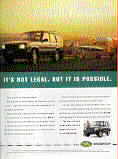 Right: "It's not legal, but it is possible" Again Pretty Much Self Explanatory. (29Kb)

Left: "Why Stop at the Carpark"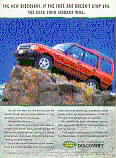 Left: "If Free ABS Doesn't Stop You..." Pretty Much Self Explanatory. (40Kb)
---
I'm still working on this. More will be coming when I find some more interesting adverts. Don't forget to check the other adverts for Defenders, Rangies, Series Rovers and, of course, Freelanders. If you know of any humourous ads, I'd be interested in seeing them.
---
Return to Ron's Rover Home Page
Email Ron Beckett with comments about this site
This page was last updated 25th June, 2007